Great Welsh Roads 4
Sad news. Patsy, Mike's faithful companion and star of series 1-3, has died. Read Mike's tribute below.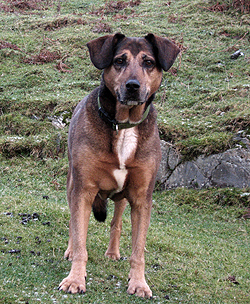 Patsy (photo by Peter Telfer)
"I'm so very sorry to say that Patsy died on 17 January 2008. She'd gone downhill quite rapidly since late last summer, which is why I decided not to have her filming the fourth series of Great Welsh Roads in the autumn. She just loved travelling in the van, but was finding it increasingly difficult. She does, I'm very glad to say, make an appearance in the final programme of the series on my return home.." click here to read all of Mike's tribute.
Great Welsh Roads 4
Grapefruit flavoured beer, the 'anti-eisteddfod' and one ugly
block of flats, series 4 promises to be the best outing yet!
Click on the episode buttons above to find out more.